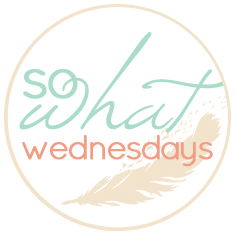 it just seems so fitting after today...
So what if:
I skipped boxing today because I am terrified of going to a different trainer.
I totally used the F bomb in the office... more than a few times.
I definitely listened to Blurred Lines on repeat for the better part of an hour.
I sent over 200 text today.
I ate a piece of chocolate cake and plan on washing it down with some birthday cake ice cream here shortly.
I walked through the new wax on the hallway floor right after the custodial staff put it down.
I watched the video of the camel saying its Hump Day WOOOT WOOT trying to cheer myself up today!
I have no ironed clothes for tomorrow and its already almost 10 p.m.
I was in a crabby mood alllllllll day. Sometimes it just happens!
Don't judge me. :)
What are you saying So what to today??
Go grab the button and link up!